MADEIRA High School

In Memory
Wayne Howard Metz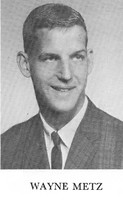 Wayne H. Metz
1945 - 2013 (Passed away from complications with COPD)
Wayne was born on 12/2/1945 and died on 4/4/2013 at the age of 67. He is survived by his wife, Sue, 3 children, Keith W, David A and Kimberly and one grandson, Aiden.
His daughter has told me: Wayne " passed away April 4 from complications with COPD. We didnt have an obit as he didnt really want anything. He donated his body to science and we had a little get together at Madeira Inn to remember him. We miss him a lot but know that he is in a better place. His illness really took a toll on him and he wasnt able to do all the things he used to be able to do but he at least got to be a part of his first grandchild's life. He passed away very peacefully. He fell asleep and just didnt wake up. As you know his humor was the greatest thing about him. He taught us to laugh
"
There was a Celebration of Life party for Wayne on Friday April 26 @ Madeira Inn 7717 Laurel Ave, Madeira, Oh 45243 from 6-8. The notice posted said there was no need to rsvp just show up and celebrate!!! Admission was one dirty joke in honor of Wayne.