MADEIRA High School

In Memory
Weedon Thomas "Tommy" Marx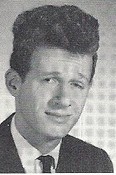 Tom Marx
Passed away July 20, 2008
MARX Tom loving husband of Margaret Marx (nee Shanon), father of Brad (Lora) and Clark (Jenny) Marx, grandfather of Maggie, Molly, and Zachary, brother of Randy (Missy) Gray and the late Randy Marx, son of Helen (Lyle) Gray and the late Tom Marx Jr., nephew of Anna Rohlman. Tom was the proud owner of Annabelle. Visitation at Mt. Moriah United Methodist Church 681 Mt. Moriah Dr. (Withamsville) on Sat. July 26, from 11-12 PM followed by a Memorial Service at 12:00 PM. Memorials may be made to The League for Animal Welfare 4193 Taylor Rd., Batavia, OH 45103.
Funeral Home: T P White & Sons
Funeral Date: July 26, 12 p.m.